Canadian housing starts trended higher in January
2/15/2021 | SHARE
Posted in Canadian Housing Market by Michael Antczak| Back to Main Blog Page
Housing starts across Canada trended upward last month, according to recent figures from the Canada Mortgage and Housing Corporation (CMHC).
According to CMHC data, the standalone monthly seasonally adjusted annual rates (SAAR) of housing starts for all areas in Canada was 282,428 units in January 2021, an increase of 23.1% from December 2020.
The figure includes starts from Kelowna, in British Columbia, which CMHC did not include in its December survey due to the COVID-19 pandemic.
Meanwhile, last month's trend measure – a six-month moving average of the SAAR of housing starts – was 244,963 units, an increase from 238,747 units in December.
Broken down, the SAAR of urban starts across Canada increased by a similar 27.7% in January to 266,877 units. Multiple urban starts increased by 24.1% to 193,328 units in January while single-detached urban starts increased by 38.1% to 73,549 units.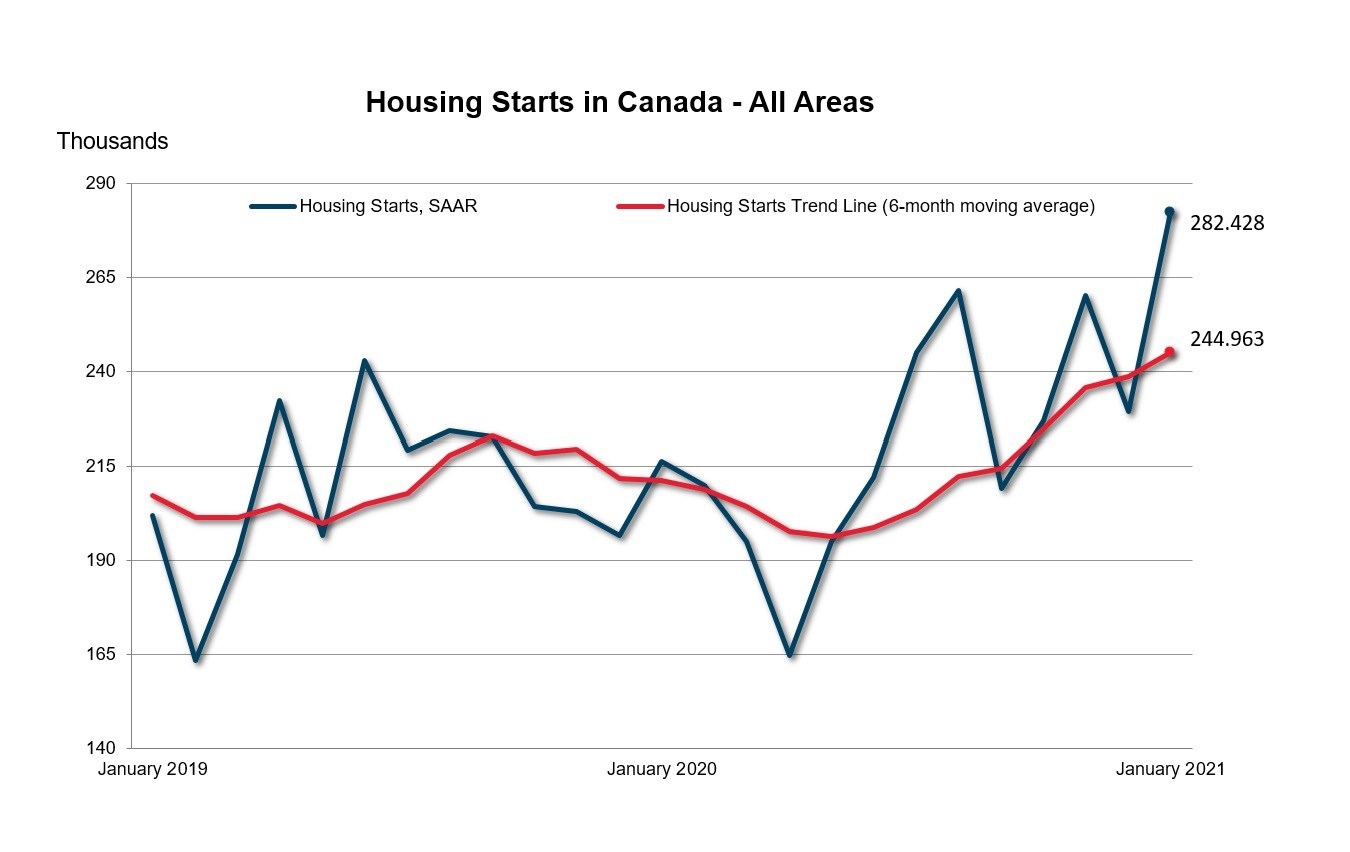 Meanwhile, rural starts were estimated at a seasonally adjusted annual rate of 15,551 units.
"The national trend in housing starts increased in January," said Bob Dugan, chief economist at CMHC. "Both single- and multi-family SAAR starts rebounded strongly in January from declines in December, driving the overall trend higher. Single-family starts were particularly strong in Montréal, reaching their highest level since February 2008."
Canadian Housing Market, Canadian Real Estate Market Outlook, Housing Starts
Thinking of buying or selling a property, or have a question regarding the real estate market? Fill out the form below and I'll get back to you promptly.