Homeowners' spending on renovations falls to 6-year low
6/5/2019 | SHARE
Posted in Home Owners by Michael Antczak| Back to Main Blog Page
Canada's homeowners are cutting back on their renovation spending according to a new poll from CIBC.
The lender has found that the average spend is $10,211, a 6-year low for the survey and falling from last year's $10,959. But many will overspend with only 32% having a detailed budget for their renovations project, down from 37% in 2018.
Of those that have completed a project, 39% went over their budget. This rose to 50% among millennials despite a larger share of this generation having a budget (39%).
"Home renovation season is upon us again and while Canadians are moderating their spending, the majority tell us they are not preparing a budget, despite the risk of overspending," said Kathleen Woodard, Senior Vice President, Personal and Small Business Banking at CIBC. "Even as homeowners are moderating their spending and focusing more on necessary repairs, it's still important to plan for your renovation and how you'll pay for it."
Most respondents feel that making repairs and renovations to their home is an investment and 67% said they prefer to renovate than sell it and move.
What they're doing and how they'll fund it
The top 3 home renovations planned by respondents are: Basic home maintenance 50% (52% in 2018); Landscaping 42% (39% in 2018); and Bathroom renovations 36% (39% in 2018).
More than half will pay for the renovations with cash or savings while 34% will borrow.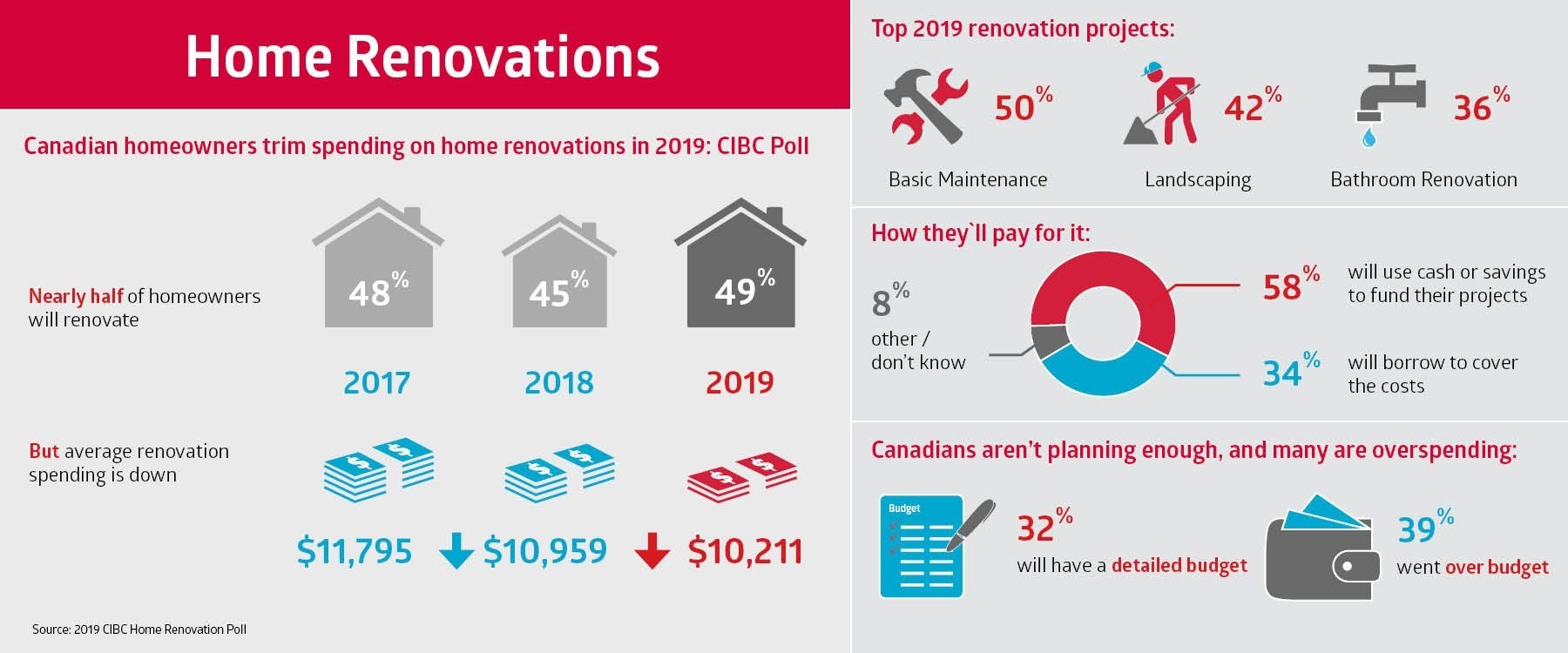 Canada, Consumer Spending, Home Owners, Home Renovation
Thinking of buying or selling a property, or have a question regarding the real estate market? Fill out the form below and I'll get back to you promptly.