Canada's 10 priciest neighbourhoods
10/26/2017 | SHARE
Posted in Real Estate Market by Michael Antczak| Back to Main Blog Page
Vancouver West Side is the priciest neighbourhood in Canada on a price-per-square-foot basis, and the city dominates the top 10.

A nationwide study by Century 21 reveals that Vancouver West Side has a PPSF of $1,201 with the city's Downtown second at $962.75 and Toronto Downtown taking third place at $818.86.

Metro Vancouver is home to 7 of the 10 priciest neighbourhoods in Canada with while Toronto's Downtown is joined by Oakville and Richmond Hill in the top 10.

Elsewhere in the country, Montreal Downtown ranks as the 12th most expensive, Victoria 18th, Calgary South West 19th, Saskatoon 31st, Edmonton 32nd, Winnipeg 37th and Ottawa 41st.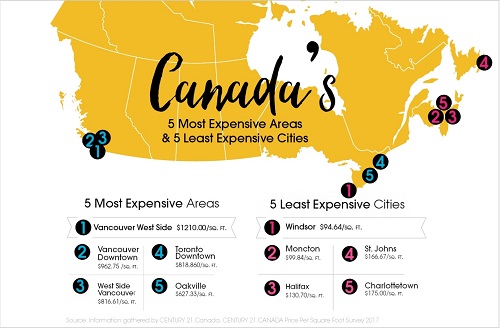 Oakville has shown the largest growth in price-per-square-foot in the past 20 years, the data shows. There has been a 493% rise from $105.77 for a typical detached home in 1997 to $627.33 now.

"For the most part, we see a stable and growing real estate industry in Canada," says Brian Rushton, Executive Vice-President of CENTURY 21 Canada. "Regions are absolutely susceptible to the economic factors in their province, like oil prices in Alberta, but we've seen steady growth for two decades. Certainly, Vancouver and Toronto have seen significant price spikes, but other areas like the Prairies and Atlantic Canada have had fairly steady and predictable markets."
Canada Real Estate, Luxury Homes, Real Estate Market
Thinking of buying or selling a property, or have a question regarding the real estate market? Fill out the form below and I'll get back to you promptly.