King City - Community Info
King City Overview
King City is a village in the Township of King, the largest geographic municipality of the nine located in York Region. King City is situated at the intersection of Keele Street and King Road. Neighbouring communities include: Nobleton to the west; Oak Ridges, Richmond Hill and Aurora to the east; Maple to the south; Newmarket to the north.
Situated on the southern slope of the central portion of the sensitive Oak Ridges Moraine and located just north of the City of Vaughan and Toronto is King City, a community of approximately 5,000 residents.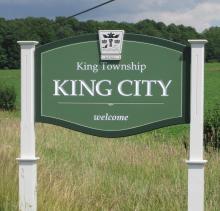 King City is characterized by rolling hills and clustered temperate forests in the Eastern Great Lakes lowland forests ecoregion. Numerous kettle lakes and ponds dot the area. Creeks and streams from King City, the surrounding area, and as far west as Bolton and as far east as Stouffville are the origin for the East Humber River.
Numerous stables and other farms have been established on the 147.938 km² of land area occupied by the township. King City is also home to international, corporate and small businesses.
Residents enjoy a wide range of leisure activities at the Township's abundant variety of parks, recreation and cultural facilities, including three arenas, Centennial Mountain ​​Biking Park, and Cold Creek Conservation Area. Other community and cultural facilities such as the King Township Museum, Community Halls and four full-service public libraries are all part of the offerings the Township provides.

Exquisite dining, world-class golf courses, and cycling paths that challenge beginners and the experienced alike, add to the Township's unparalleled quality of life. Along with community groups and partners, the Township continues to enhance arts, culture and recreation programming for all ages, and provides for safe outdoor parks and green spaces for the benefit of residents and visitors alike.
Schools in King City
The Seneca College King Campus is located in King City; it is the only post-secondary education facility in King Township, and one of its major employers.
Like the rest of Ontario, King City has access to two public education systems: the regional boards are the York Catholic District School Board and the York Region District School Board.
King City Secondary School is a public school that serves students from all King Township. With a student body of approximately 1100, course offerings are moderate but varied. The school features a full-size 400m outdoor track and a soccer pitch.
Within the public school system, King City Public School serves the community. Holy Name Catholic School offers education within the Catholic separate school system.
Additionally, the community is served by a number of private institutions:
Transportation
There is easy access to major provincial highways: north/south routes of Highway 400, Highway 427 and Highway 404; east/west routes of Highway 7, ETR 407 and Highway 9.
Highway 400 runs past King City along its western end; it is a major vehicular artery linking King City to numerous communities in the vicinity, and is part of the extensive 400-series provincial highways. King City is at Exit Number 43, King Road.
Public Transit is provided by
York Region Transit (YRT) #22. Routes 32, 88 and 90 make stops at Seneca College's King Campus. Also in 2005, YRT introduced the 22 King City route which travels from Seneca College across Bloomington Rd. to Yonge St. and over to King City via. King Rd and Bond Cr. where it then travels down Keele Street to the Maple Community Ctr. in Vaughan, Ontario.
Public Transit is also provided by GO Transit, which has a GO Train Station on the west side of Keele Street, south of King Road. King City has weekday GO train service on the Barrie line. Commuters from King Township and parts of the City of Vaughan board the train at King City GO Station. GO Transit also provides weekday bus service from King City GO Station, with destinations as far south as Toronto, and as far north as Barrie.