Aurora - Community Info
Aurora is an affluent town in York Region in the Greater Toronto Area, within the Golden Horseshoe of Southern Ontario. It is located north of the town of Richmond Hill and is partially situated on the Oak Ridges Moraine. Many Aurora residents commute to Toronto and surrounding communities.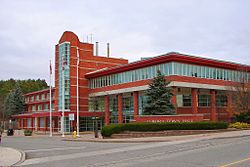 Town of Aurora is split in several communities / neighbourhoods: Aurora Village, bordered by Hills of St. Andrew, Aurora Heights and Aurora Highlands to the east, by Bayview - Wellington, Bayview Northeast, Rural Aurora, Bayview Southeast and Aurora Grove to the west, and by Aurora Estates to the south.
History of Town of Aurora
Lieutenant-Governor John Graves Simcoe gave the order for Yonge Street to be extended to Holland Landing in 1793, and the way was paved for the establishment of a community where Aurora now stands. In 1795, the first house in Aurora was built at Yonge St and Catherine Av. In 1804, Richard Machell became the first merchant at the cross roads of Yonge and Wellington and the hamlet soon became known as Machell's Corners. Charles Doan was another early businessman at Machell's Corners and became the first postmaster and later the first reeve. As postmaster, he was influential in re-naming the village Aurora.
With the coming of the railway in 1853, Aurora emerged as an important centre north of Toronto. The Fleury plough works was established soon after and Aurora was on its way to becoming a flourishing industrial town.
The population of Aurora in 1863 was 700, and by 1888 it had grown to become a town of 2,107 residents. With some ups and downs in growth over the years, Aurora is now a flourishing town of over 50000 residents with a strong commercial and industrial base.
Transportation
Major roads running through Aurora include Bathurst Street at its western border, Yonge Street, Bayview Avenue, Leslie Street, and Highway 404 at its eastern border and Bloomington Road at the southern border. Wellington Street is the town's major east-west road, with the Yonge-Wellington area having the busiest traffic volume in Aurora.
Public transit
The town of Aurora's public transit is serviced by York Region Transit (YRT) and VIVA. The Aurora GO Station is on the Barrie line and is served by five trains southbound to Toronto each weekday morning and five trains northbound each afternoon, except holidays. GO Transit buses provide hourly (or better) limited-stop service to and from the Union Station Bus Terminal from early morning until late night when trains are not operating. TheAurora GO Station is also served by five YRT bus routes.